Recognize, Appreciate, and Celebrate
Whether it's products that support physical well-being, or the opportunity to experience better financial security, 4Life lives by the philosophy of Together, Building People®. Our recognition program serves as an extension of this core value and is based on the appreciation and edification of our family of distributors.
President's
Club
Meet the prestigious group of new President's Club members!
Chen, You Lan

International Diamond

HONG KONG

Cho Yun Jung

International Diamond

SOUTH KOREA
Distributor
Achievements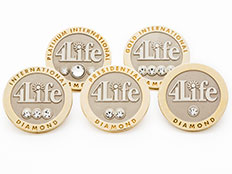 Summit
Platinum Edition

Esdras & Rosa Cabrera
Platinum International Diamonds

Platinum International Diamonds Esdras & Rosa Cabrera from Dominican Republic share their exciting journey to success with 4Life.
Latest Rank
Advancements
Mom Mi Jeong

- SOUTH KOREA

Presidential Diamond

Wilmer Eugenio Zambrano Ferrin

- ECUADOR

Presidential Diamond

Rudy Yanto

- INDONESIA

Diamond

Melia Sisilia Sulayman

- INDONESIA

Diamond

Song Ju Hee

- SOUTH KOREA

Presidential Diamond

Anil Kumar

- INDIA

International Diamond

彥余 劉

- HONG KONG

Diamond

Gung Yun Je

- SOUTH KOREA

Presidential Diamond

Apolinario, Jr. Autor

- PHILIPPINES

Diamond

Ralph Kuhn

- GERMANY

Diamond

Xitlali Ortega

- US

Presidential Diamond

Angela Franco

- SWEDEN

Presidential Diamond

Yulianna

- INDONESIA

International Diamond

Narda Rocio Mantilla Arrazola

- BOLIVIA

Presidential Diamond

Donna Lang Ayan

- PHILIPPINES

Presidential Diamond

Soon Geum Lee

- SOUTH KOREA

Diamond

Viviana Zambrano

- ECUADOR

International Diamond

Ann Margarett Andrada

- PHILIPPINES

Diamond

Shin Eun Chul

- SOUTH KOREA

Diamond

Wilma Derecho

- PHILIPPINES

Diamond

Kim Seon Hee

- SOUTH KOREA

Diamond

Emilio Jose Lanas Sanchez

- ECUADOR

Presidential Diamond

Santiago Funes

- US

Presidential Diamond

Katherin Lariza Ojeda Flores

- ECUADOR

Diamond

Rejina Thakuri

- INDIA

Diamond

Kim Eun Yeong

- SOUTH KOREA

Presidential Diamond

Kim Ki Hong

- SOUTH KOREA

Presidential Diamond

Leon Cornehl

- GERMANY

Diamond

Han Yeong Hui

- SOUTH KOREA

Diamond

Jaime Luis Rojas Moya

- BOLIVIA

Presidential Diamond

Cecilia Nolasco

- US

Diamond

Rathan Lal

- INDIA

Diamond

Carlos Javier Arita Sanabria

- EMERGING MARKET

Diamond

Shin Yeong Ja

- SOUTH KOREA

Presidential Diamond

Jo Kyunghwa

- SOUTH KOREA

Presidential Diamond

Rosa Maria Fragoso

- US

Presidential Diamond

Kim Mi Suk

- SOUTH KOREA

Presidential Diamond

Julieth Gutierrez

- US

Presidential Diamond

Kang Hyun Sook

- SOUTH KOREA

Presidential Diamond

Bettina Theissen

- GERMANY

Presidential Diamond

Alberta Trinidad

- US

Presidential Diamond

Ennaliza Ong

- PHILIPPINES

Presidential Diamond

Raymond Onggara

- INDONESIA

Diamond

Shin Dong Hyeon

- SOUTH KOREA

Diamond

Julio Olivares

- US

Diamond

Uab Riešės Šeimos Klinika Uab Riešės Šeimos Klinika

- LITHUANIA

Diamond

Sara Ronquillo Salazar

- MEXICO

Diamond

Jose Feijoo & Alexandra Soto

- SPAIN

Presidential Diamond

Santos Dominga Orellana

- US

Diamond
Special
Awards